Lance's Room
Welcome to Lance's room! What follows is a list of all the very drac Dragon Booster related merchandise known to be available. If you know of something that isn't listed, please email the information to .

Below you will find information on:

| | | |
| --- | --- | --- |
| Action Figures | DVDs | T-Shirts |
| Video Games | Trading Card Game | |
| Books | Promotional Materials | |
Product Availability: A very small number of Dragon Booster toys are available right here. Click here to view the selections.
Click here to view Dragon Booster Books, Games, Toys, and More on amazon.com.
Action Figures
A total of 16 different action figures were manufactured by Jakks Pacific, however only seven of these were offered for sale in North America. At this time, no other online sources for the toys are known. Please take a moment to help the effort to get the toys back in stores. Click here to read more.
Below is a set of 10" articulated dragon action figures with riders and gear. The first three of these were available through amazon.com from April until the end of June 2006. These were priced at $9.99. The second set of three (Wyldfyr, Cyrano and Wraith Beau) were only sold overseas and were seen by fans in Europe, South Africa and Hong Kong. Note the packaging in the photos for the second set is in Spanish as these were intended to be sold in Mexico. Whether they ever went on sale in Mexico is unknown. These particular samples were obtained from Hong Kong.
Click on an image to enlarge
In addition to the above, there were four Super Speed Dragons. These were flywheel-based toys that race along the floor when you pull the rip cord. These four were priced at $7.99 from amazon.com and were sold from April 2006 through June of that year. The four Super Speed Dragons were also available at KB Toy Stores in the United States during the latter half of 2006.
The following are the official product shots of the six 10" action figures:
Click on an image to enlarge
A set of four were previewed at the San Diego Comic Con back in July 2004. Below are photos of the figures shown at the convention.
Click on an image to enlarge

Cyrano
There were also a set of six Racing Dragon toys. These were smaller figures attached to wheeled bases. These were never available in North America. They were seen by a fan at Toys R Us stores in South Africa. Also, a full set of six of the toys were obtained from a dealer in Hong Kong, and as you can see in the photos below, these were packaged to be sold in Mexico, hence the Spanish on the packaging.
Click an image to enlarge

Beau

Beau

Wyldfyr

Cyrano

Decepshun

Shock-Ra
Below are some close up photos of the figures. Thank you to IbanezJFS for providing the photos shown here and thanks to SheWulph for sending the toys.
Click an image to enlarge
| | |
| --- | --- |
| Jakks Pacific also announced the Dragon Booster toy line would include large scale figures of the show's heroes in addition to the articulated and highly detailed action figures shown above. There would also have been a vertical Dragon Booster Playset to recreate Dragon City but unfortunately these were never offered for sale. Click the image to right for a larger view. | |
DVDs
Dragon Booster is now available on DVD in Canada, Australia and the US. The details of the DVDs vary somewhat from country to country, so read on.
United States
The first four episodes of Dragon Booster are now available on DVD in the US. The release date for Volume 1 was February 7, 2006 and it's being released through FUNimation. The episodes on the DVD are in full screen aspect ratio. The cover art is shown to the right. There is also some bonus material on the disc:
Handheld Game Codes - Game Codes for Konami's Dragon Booster video game - to release on Nintendo DS this December

Trading Card Game Tips - First 10K include a free Score trading card! Plus, get exclusive game play tips.

Original Voice Auditions - Original Voice Audition audio for Artha, Parmon, Kitt and Lance

Meet the Penn Racing Crew - Profiles of the Penn Racing Crew and their Dragons, including special dragon qualities

Artist's Sketchbook: Artha - From beginning to screen... how they drew and designed Artha - a photo collection

TV Series Trailer - The trailer that launched the series on TV - shown in theatres nationwide
FUNimation says that the release of more episodes will depend on the sales for Volume 1, so if you're a fan and want to see the whole series released, buy your copy of Volume 1 today! This DVD is only $10.27 with free shipping when ordered from Deep Discount DVD, so don't delay. It can also be ordered from amazon.com
.
Canada
A separate DVD release has come out recently in Canada. This release is being made through the Sony Wonder label. There are two volumes out: the first volume, called "Release the Dragon," contains the same material as the US release above, including all the bonus material. The episodes are full frame pan-and-scan like the US release and the only real differrence is the inclusion of a French soundtrack.

The second volume, called "Grip of the Dragon," contains episodes 5-9, but no bonus material, and was released on August 1, 2006. The important difference is that Volume 2 is in wide screen and enhanced for 16x9 TVs. Hopefully, this means any subsequent releases will also be in widescreen so fans can enjoy the show as it was produced and meant to be seen.

At this time, there is no word on when volume 2 will be released in the US. However, the good news is that DVDs released in Canada will play on any US DVD player. So you can easily order volume 2 from a Canadian online store (like www.amazon.ca) and enjoy it in widescreen. The cover art for the Canadian DVD releases is shown to the right.

At this time, there is no information about whether Volume 1 will ever be re-released in widescreen.
Australia
The series was also being released in Australia through Roadshow Entertainment. Volume 1 containing the first four episodes in wide screen format (but no bonus material) was released on November 3, 2005. Volume 2 containing the next four episodes was released on July 6, 2006. The cover art for the Australian releases is shown to the right.

In addition to these consumer releases, a single promotional DVD was sent to hobby and game retailers in North America to help promote the trading card game. It contained the 2 1/2 minute show trailer and the entire episode of "The Stand". A few of these made their way onto eBay, though they are rare now.
Video Games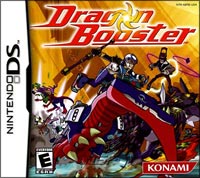 Click for more screen shots
A Dragon Booster video game for the Nintendo DS hand held game system was released in North America on 12/22/05. The game, created by Konami, is a racing-based design where players select gear and race dragons from the show on various tracks.
It is rumored that the game may make it's way to the Playstaion 2 as well, but this is unconfirmed.
14 screen shots from the actual game are available for viewing by clicking the image to the right.
Click here to see a poster for the video game.
Order now from amazon.com.
Trading Card Game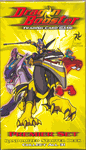 A Dragon Booster trading card developed by Score Entertainment is now available in stores. The card game emulates Dragon street racing where one chooses a dragon to race, adds gear, and makes various types of moves during the course of the game including battle with another player. There are two ways to win the game: either to cross the finish line first with 30 points, or to exhaust all rival's decks such that you're the only player left with cards. Given the variety of cards and combinations in which they can be used, numerous strategies are possible. As with other trading card games, card packs contain a randomized selection of cards with some cards being common and others being rare. Part of the challenge is to construct a strong card deck to suit a particular strategy out of the cards one randomly acquires by purchasing card packs.
Rules
If you would like to learn how to play the game, click here to download the rule book (PDF format). Like all games made by Score, the rules and turn sequence are simple and easy to learn. The depth and fun of the game comes in choosing the right combination of cards to place in your deck to achieve a winning strategy. And many different strategies are possible depending on which dragon and gear you choose to use.
When you're ready to get deeper into the game, click here to download the Advanced Rulings Document (PDF). This explains the turn sequence in a greater level of detail which helps resolve any ambiguities that may come up. Also, download the Current Rulings Document which corrects a few card typos and provides clarification on certain card meanings.
Deck Building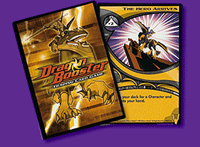 Dragon Booster is played with two decks: a Race deck and a Dragon deck. All your clear crystal cards, namely dragon, crew and gear, go in the Dragon deck. All the event and maneuver cards go in the Race deck.
The Dragon deck must contain at least one dragon card and can have up to 10 cards in it. You can have no more than two copies of any given card in it. This deck is not shuffled.
The Race deck must have exactly 60 cards in it. You can have no more than four copies of any given card. This deck is shuffled prior to the start of the game and is kept face down on the table.
That's it! As with just about all the rules, things are kept really simple. The fun begins when you decide what to put in your deck. The card library below will help you become familiar with the cards.
Playmat
Starter decks include a playmat to help you get organized as you start out playing. The play area is divided into three main sections: the mag pit where you keep your dragon card and magged gear, the track where you play maneuvers and the zone where you battle it out against your opponent with whatever maneuver cards you have in play.
View the front side of the play mat.
View the back of the play mat.
Questions?
If you'd like to know more about the rules or anything else about the game, visit the Dragon Booster TCG forum on the main Dragon Booster Fan Forum and ask.
Ready to Play?
Are you a gamer in the San Francisco Bay Area and interested in playing? If so, contact . We also play the Inuyasha trading card game as well. Beginners welcome. Free starter decks are available for new players who want to try the game.
If you're in western New York state or north western Pennsylvania and want to play, contact .
Books
A line of novelizations of some of the episodes have been released in the US. The books are listed as being for all ages and are 96 pages long each. The retail price is $4.99 in the US. There is also a separate book called "The Ultimate Scrap Book" that is 32 pages. The books are presently available from the major online book sellers such as amazon.com.
At present, the first five books and the scrap book are out and available. According to author James Gelsey who wrote these adaptions, a total of ten novelizations were originally written covering the first ten episodes of the series, however the publisher has declined to release the last five (probably due to lower than expected sales of the first five). Indeed, amazon.com used to list three additional novelizations (The Stand, The Horn of Libris and Three Times a Hero), but these have since been removed from amazon.com's catalog. The cover art that would have been used for these additional three books is shown below.
Dragon Booster Books on sale! Amazon.com is running a "buy 4 for the price of 3" sale for a limited time. Click here to see books available.
Click on any image to enlarge
Kids T-Shirts
Dragon Booster clothing has been announced. The clothing is being made by J.C. Kids Apparel and will include T-Shirts (sizes 2-6x) and possibly swimwear. A fan in Toronto Canada reports that the shirts are available at area Zellers stores as of July 30th for $7 each. Check their web site for a store locator. The clothing appeared on the official show web site in February 2006. Availability in other countries is unknown.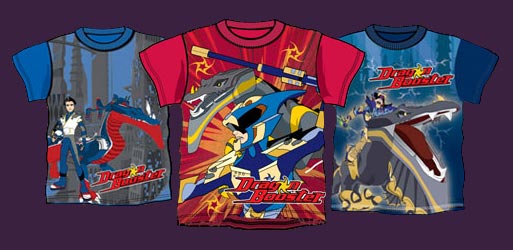 Happy Meal Toys
McDonald's offered Dragon Booster Happy Meal Toys from January 27th to February 23rd 2006 in the US. There were eight different toys available: Artha and Beau, Wulph and Hyve, Dragon Booster And Beau, Khatah and Shock-ra, Propheci and Reepyr, Moordryd and Decepshum, Parmon and Cyrano, Sparkk and Femo. These are some of the larger Happy Meal toys that have been offered, with each toy measuring roughly 4-5". These can still be purchased off ebay at the moment for people who missed the promotion.
McDonald's in Australia and New Zealand ran the Happy Meal promotion from June 30th and through July of 2006.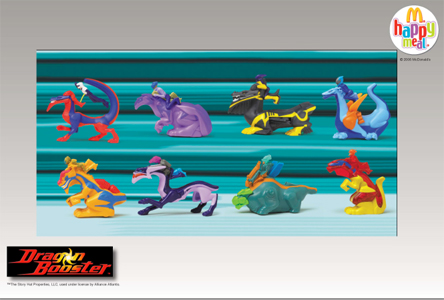 Click to see larger images of each
McDonald's in the UK ran a Dragon Booster Happy Meal promotion from mid-February until the end of March 2007. For this promotion, they made four new toys:

Click to see larger images of each
Promotional Materials
| | |
| --- | --- |
| A small box of promotional materials was sent to hobby and game retailers in North America in February 2005 to help sell the trading card game. The box included a large poster, small poster, small sign, window cling, several demo packs of trading cards and a DVD containing the 2 1/2 minute show trailer and the entire episode of "The Stand". They are not known to be available any more, though one shows up on ebay every once in a great while. | click to enlarge |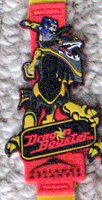 click to enlarge
A Dragon Booster lanyard (shown right) was given away at the 2006 International Licensing Exposition. The expo took place at New York City's Jacob K. Javits Convention Center from June 20-22. The lanyards were given away by Alliance Atlantis to help promote the show.