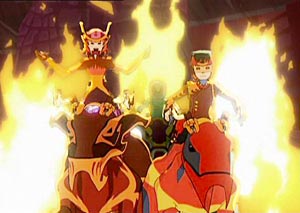 The Dragon Flares are described as one of the fairer and more honorable racing crews in Dragon City. But they can also be dangerous if crossed.
The Dragon Flares is also one of the few crews that does not maintain a crew compound in Dragon City. They prefer to live in the Fire Cave in the wasteland outside of the city. This is perhaps one of the traditional homes for the Red Draconium Empire and they chose it as their crew headquarters for that reason.
So far, only Pyrrah and her younger brother Sparkk have had roles of any significance in the Dragon Booster saga.
View the Crew Summary from the official Dragon Booster web site.