Kitt's Guide to Dragon City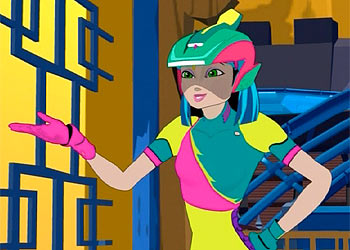 Having grown up in Down City, Kitt knows her way around Dragon City more than most people. She's also among the best of the street racers and knows a lot about dragon racing and the gear that's used. Let her take you on a tour of the city and show you the layout. You'll also get a chance to learn more about dragon racing and gear in this section.
(The city tour and race descriptions are in development. Check back!)
Gear Guide
Gear is an important ingredient in the dragon racing. Using the right gear in the right ways extends and enhances a dragon's natural abilities and not only makes racing more exciting and a more intense experience, but it can make the difference between winning and losing. At the same time, gear is not to be used lightly. Experience and skill by both the human and dragon is needed to handled it properly. Fortunately for us, the creators of Dragon Booster have shared their Definite Gear Guide with us so we can learn more about this crucial racing element.
Just like dragons, each piece of gear is based on a particular color of draconium. Each of the twelve colors of draconium have their own type of gear with its own special characteristics. Visit Connor's Guide to Dragons to learn about the draconium colors and how they influence a dragon's characteristics. There you will also learn about a dragon's mag abilities, how they use gear and which gear types are compatible with which dragons.
Click on the gear color below to learn more about that gear type: